Advertising and Sponsorship Opportunities
Advertising
We work with television, radio and print partners to produce unique opportunities for you. From distributing product to more traditional print advertising, your promotional creativity knows no bounds. We welcome your ideas.
Sponsorship
A snapshot of the 2017 Chagrin Hunter Jumper Classic.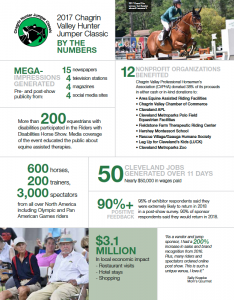 Your sponsorship is designed to provide optimal return on investment. Over 90% of sponsors indicate satisfaction with brand engagement and return in subsequent years. We work with you to create a package that makes sense for your business. Contact: Lori Proch - info@clevelandhorseshow.com
Endowment Fund
Your pledge to our endowment fund will help to raise money to preserve and protect the Chagrin Hunter Jumper Classic for years to come.
Farm Sponsorships
You are the foundation of the show. Your barn benefits by being seen by potential training partners, boarders and parents of beginning riders. A modest sponsorship can net big visibility. We will make it work for you. Contact: Lori Proch - info@clevelandhorseshow.com
2017

CHJC Sponsors